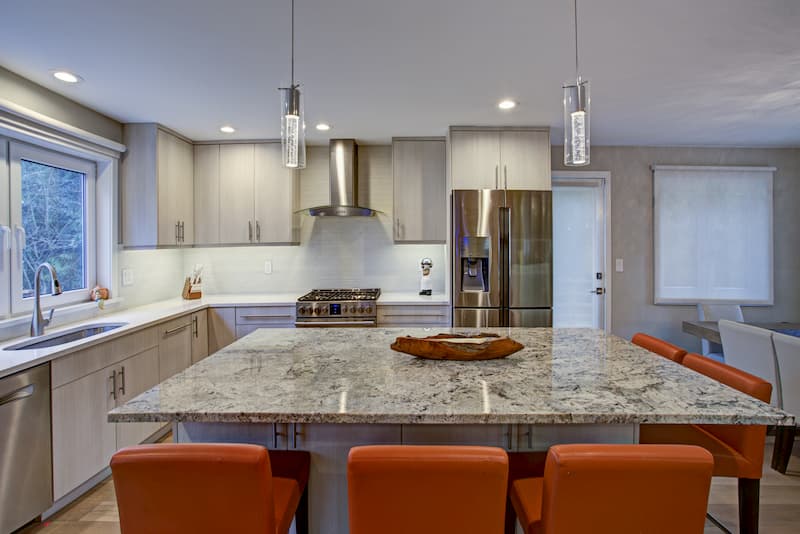 Fort Worth Granite is your number one resource for the widest selection of fine granite countertops you will find anywhere. Since 2010, we have provided top quality granite countertops to homeowners in Venus, Fort Worth and the entire DFW metroplex area. Homeowners value granite countertops because they instantly create an elegant feeling in any room they're in. Since granite is a natural stone that is quarried, no two granite slabs are alike. Granite colors run the spectrum, from the palest white granite to ebony black granite. Would you like brown granite for your Western-themed home? We've got it! If you prefer a speckled or swirled granite pattern, our extensive inventory has it for you. Often, we are asked how much granite countertops cost. That's an understandable question, as upgrading a home can become expensive. With our vast selection and policy of passing low, low prices along to you, we enable you to have the granite countertops you've been wanting, no matter what your budget range is.
Quartz Countertops Venus TX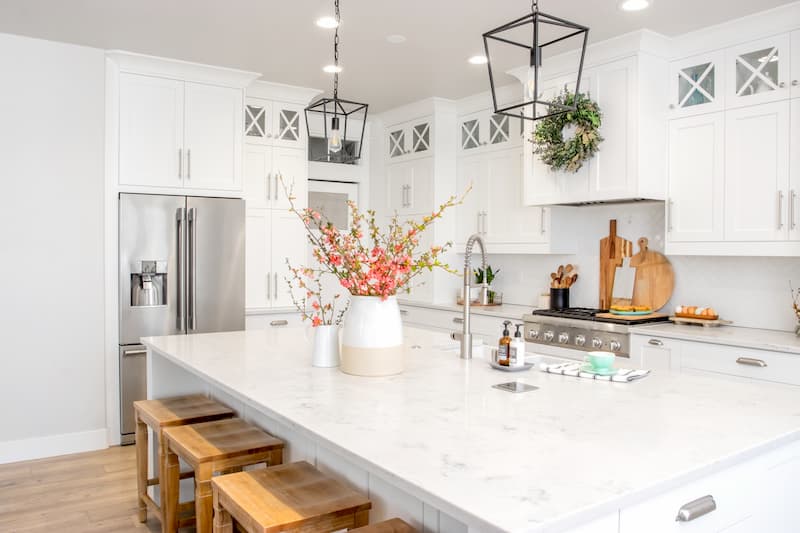 Which is better, granite countertops or quartz countertops? We hear that question frequently. Both have very positive attributes, so your decision should be based upon which you visually prefer and what is best suited for your lifestyle. Quartz countertops are a combination of quartz material and approximately 7% resin, making them easy-care, more affordable and less apt to stain. They can be dyed any color you wish and are excellent for large areas because there is no color variance between slabs. If you are always on-the-go, enjoy cooking frequently or entertain at home regularly, quartz countertops are a good choice for you.
Quartz and Granite Showroom & Warehouse
Visit us at our locally-based Fort Worth showroom and see for yourself the extensive selection of granite and quartz colors, patterns and varieties we offer you. Stroll through our expansive warehouse and view the abundance of large granite and quartz stone slabs for you to select from. Your options are endless! Our design consultant will aid you in selecting the countertop stone that is perfect for you and your needs. In addition, you will be presented with the unlimited options you have to showcase and enhance your countertops by incorporating specialty stone, fine tile, natural stone and our affordable granite and quartz remnants.
Offering All Stone Countertops
Quartz and Granite Installation
We do more for you than just install your countertops! At Fort Worth Granite, we offer you and install every detail necessary to upgrade your home. Are you embarrassed by your bathroom? Is your kitchen sink frustrating you? How old is that fireplace tile? From fine hardware and sinks to tiles and flooring, we take care of every aspect required. Because of our close affiliation with the most respected suppliers in the industry, we are able to offer you everything you need and pass along to you the lowest prices you'll find anywhere. With us, you have peace of mind in knowing we've got you covered!
Edge Profiles
Don't underestimate the importance of your countertop's edges! Functionally, the edge profile smooths the rough edges of your countertop stone slab. Visually, it expresses the style that is most important to you. Are you more comfortable in elegant, traditional environments? Does that down-home country feeling put you more at ease? When selecting, consider what style best expresses your preferred design inclination, where your countertop will be located and what it's primary use will be. Our designer will show you examples of each edge profile and aid you in choosing the one that best fits you and your needs.

For Granite or Quartz Contact Us Today
Check out our online inventory and give us a call at (817) 601-1003 to speak with our granite and quartz experts. Our family-owned company is always here to answer any and all of your questions! Stop in and see us at our locally-based Fort Worth showroom to see in-person the massive selection of granite and quartz colors, patterns and varieties we have for you to choose from. Fort Worth Granite is devoted to providing you with the widest selection of fine quality countertops, the best service you'll find and the lowest prices available anywhere. With us, your house will become the home of your dreams!