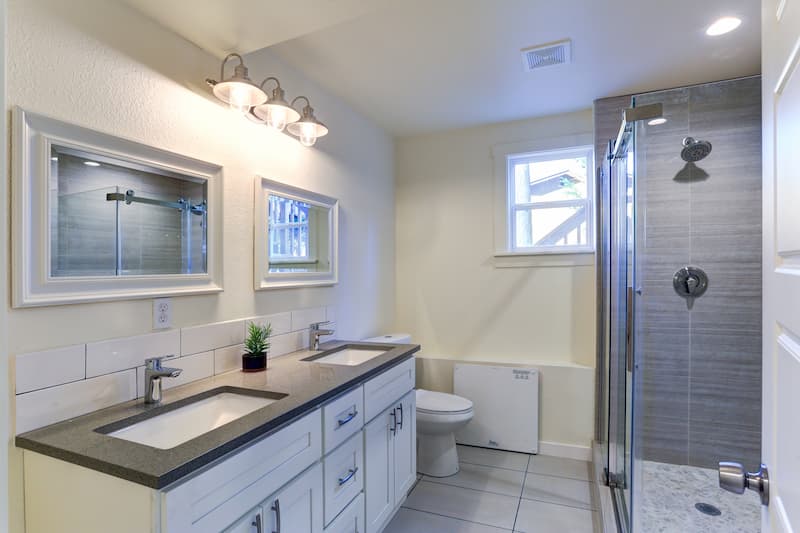 Bathroom Tile Fort Worth TX. Fort Worth Granite is renowned for providing exquisite bathrooms to Fort Worth, the surrounding cities and the entire DFW metroplex area. As each natural stone has its own unique characteristics and hardness levels, some are better suited for one area than another. You're in luck! Natural stone works perfectly when incorporated into your bathroom. Marble is a natural stone that quickly transforms your bathroom into a spa-like environment when utilized for your bathroom countertops.
Coordinate natural stone in your shower and with your flooring and it's show-stopping! Our enviable mosaic tile patterns will leave you speechless! The design consultant will assist you in coordinating your bathroom features and turning it into a relaxing, peaceful escape. Our low wholesale prices make it possible for you to have the finest natural stone, tiles, hardware and flooring available anywhere. With us, you can be certain you'll want to show-off your bathroom!
Quality Bathroom Countertops
Homeowners everywhere desire marble because it is an elegant, sophisticated natural stone. Although marble cannot be utilized just anywhere, it works perfectly for bathroom countertops and vanities.
Our highly-experienced fabrication experts craft flawless edge profiles and the intricate, elaborate ogee edge profile works beautifully on a marble bathroom countertop. If you want dramatic impact, consider one of our rare granite stone varieties. Fort Worth Granite has the widest range of granite colors and patterns available for you to see in our locally-based showroom.
Do you want your friends and neighbors to be in awe when they open your bathroom door? With us, you can be certain that will happen! Stop by our convenient Fort Worth showroom location and view the vast array of natural stone and granite slabs in our expansive warehouse. Whatever you are envisioning your dream bathroom to become, we see to it that occurs!
Call Fort Worth Granite Today!
For the finest tile, including hand-painted and hand-made options, as well as the most extensive selection of exquisite natural stone available anywhere in the area, contact us today at (817) 601-1003 and speak with our tile and stone experts. Fort Worth Granite is your premium resource for the widest selection of countertop stone, hardware, sinks, flooring and beautiful tile. When you are renovating and upgrading your bathroom, you can count on us to make your dream happen!