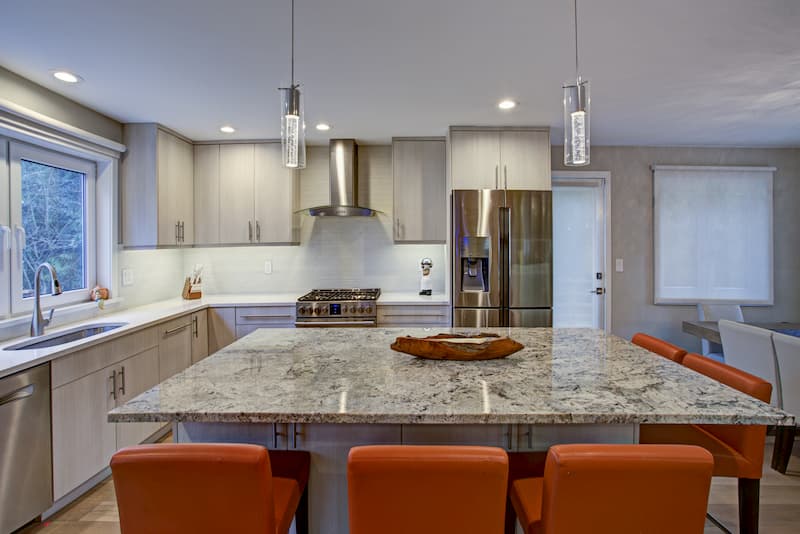 Fort Worth Granite is your go-to resource for the widest selection of top quality granite countertops in Fort Worth and the DFW metroplex region. Since 2010, we have provided the finest quality granite countertops to homeowners in Roanoke and throughout the surrounding cities. Granite is desired by homeowners because it is quarried and no two granite slabs are identical. Granite creates an elegant feeling in any room and is available in a myriad of colors, patterns and varieties.
Do you desire brown and gold granite for your earthy, rustic home? Would soothing white granite fit your traditional environment? Is exotic black granite what you long for to express your daring style? We offer all colors and varieties and if you don't find what you're looking for, we order it just for you!
We are often asked how much granite countertops cost. A free estimate is always provided. Home upgrades can become expensive; therefore, we provide you with the lowest prices available anywhere. With us, we make certain you have the granite countertops you've been wanting, no matter what your budget range is.
Quartz Countertops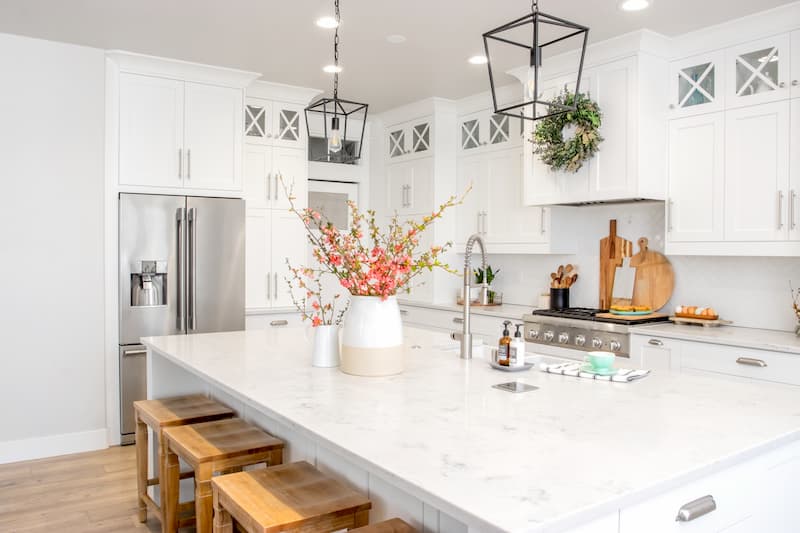 The debate continues between homeowners and builders alike as to if granite countertops or quartz countertops are better. Both have very positive attributes; therefore, it comes down to what you visually prefer and what better fits your preferred design genre and lifestyle. Quartz countertops can be dyed any color and there is no color variance between slabs, making it excellent for large areas.
Quartz countertops are comprised of quartz material and resin. They are easy-care, less likely to stain and cost-efficient. For those of you with demanding schedules, who cook frequently or enjoy entertaining at home, quartz countertops are a good choice.
Quartz and Granite Showroom and Warehouse
Visit our locally-based Fort Worth showroom and see the vast selection of granite and quartz colors, patterns and varieties we have for you in our extensive inventory. Our installation experts will direct you through our expansive warehouse to view the abundance of granite, quartz and natural stone slabs we make available for you to choose from. The choices are endless!
Our design consultant will assist you in selecting the perfect countertop stone that is best suited for your needs and preferred design style. Additionally, you will be presented with the innumerable ways in which you can frame and showcase your countertops by incorporating our granite and quartz remnants, specialty stone and natural stone.
Offering All Stone Countertops
With Fort Worth Granite, you have more countertop stone options than granite and quartz. By utilizing natural stone and specialty stone, you infuse your individualism into any room you choose. What decorative style do you relate to best? Do you like earthy and rustic? Does trendy and glam better describe you?
When making your countertop stone selection, consider what room the countertop will be in and what it will be primarily used for. Natural and specialty stones such as slate, marble, soapstone and onyx each have unique characteristics. When you utilize these stones, you ensure that your countertops will express your individuality.
Natural Stone
Revive every area of your home by incorporating natural stone.
Specialty Stone
Showcase special areas with contrasting specialty stone countertops.
Euro Style
Your stone visually cascades down the sides like a waterfall.
Quartz and Granite Installation
From the initial renovation plan until transformation completion, Fort Worth Granite provides and installs every fine detail necessary to make your house the home you've always wanted. We don't stop after installing your countertops! Our close association with the top suppliers in the industry enables us to offer you and install every finishing aspect you need.
Is your bathroom an eyesore? Does your fireplace need to be updated? From quality sinks and hardware to tiles, flooring and more, we take care of it all and pass the low prices along to you. With us, you can relax and know that your house will transform into your dream home.
Edge Profiles
Your countertop's edge profile is an important design element. It is key in expressing the decorative style you best relate to. Do you prefer simple minimalistic design? Are classic environments what puts you at ease? Functionally, the edge profile is needed to smooth the rough stone slab edges.
When making your decision, consider where the countertop is located, what its primary use will be and what design inclination you favor. Our design consultant will present you with examples of each edge profile and assist you in making this important design decision.

For Granite or Quartz Contact Us Today
View our extensive inventory online and contact us today at (817) 601-1003 to speak with our granite and quartz experts. Our family-owned company is here to answer any questions you might have. Come see us at our Fort Worth showroom and view the multitude of colors, patterns and varities of quartz and granite we have for you to select from.
Fort Worth Granite is dedicated to providing you with the finest countertops, best service and lowest prices available anywhere. With us, you can be certain your house will become the showplace you envision!