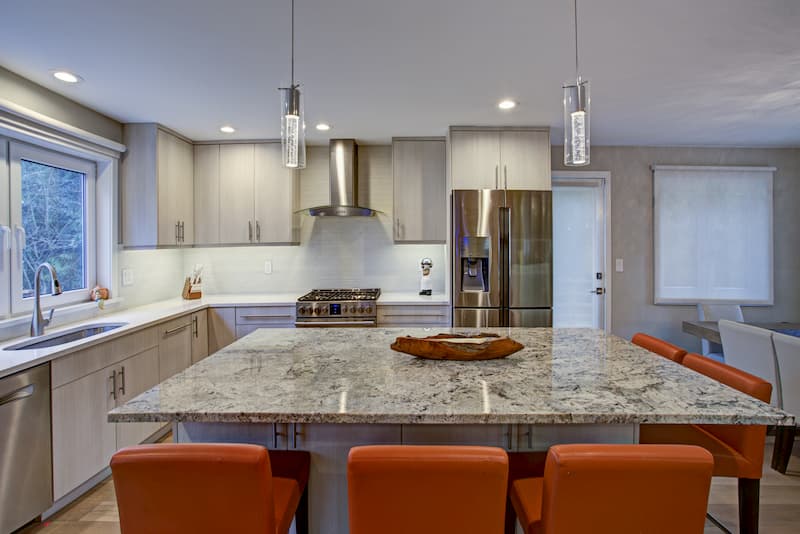 Fort Worth Granite is your number one resource for the widest selection of fine quality granite countertops in Fort Worth and the DFW metroplex area. For more than a decade, we have provided top quality granite countertops to homeowners in North Richland Hills and the surrounding cities. As granite is a natural stone that is quarried, no two granite slabs are identical. Granite is prized for its elegant beauty and the extensive colors, patterns and varieties it's available in. Does dramatic black granite fit your daring style? Is ethereal white granite what speaks to you? We have all colors in our extensive inventory, as well as speckled and swirled varieties.
"How much do granite countertops cost?", you ask. We always provide a free estimate. We understand upgrading your home is sometimes expensive; therefore, we provide you with low wholesale prices and make it possible for you to have the granite countertops you desire, no matter what your budget range is.
Quartz Countertops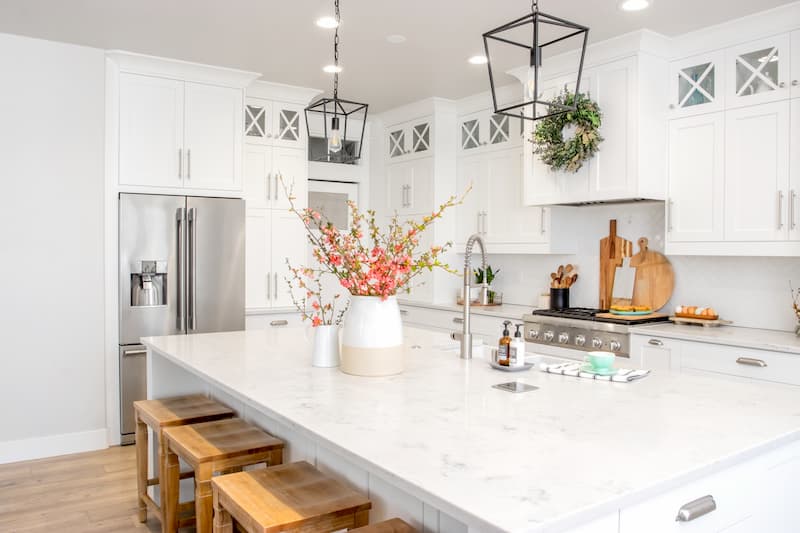 Quartz countertops continue to increase in popularity with homeowners. They are easy-care, cost-efficient and less likely to stain. Quartz countertops can be dyed any color you desire and are excellent for large areas because there is no color variance between slabs.
We are often asked if granite countertops or quartz countertops are better. Both have many positive attributes, so it comes down to what you prefer visually and what best suits your lifestyle. If your schedule is always busy, you love cooking frequently or you enjoy entertaining regularly at home, quartz countertops are a good choice for you.
Quartz and Granite Showroom and Warehouse
When you visit our Fort Worth showroom, our design consultant will show you the myriad of granite and quartz colors, patterns and varieties in our extensive inventory. We will lead you through our expansive warehouse so you can view the large granite and quartz slabs we make available for you to select from. The options are endless!
The designer will aid you in selecting the countertop stone that best suits your needs, lifestyle and design preference. In addition, you will be presented with the multitude of options you have to enhance and frame your countertops by utilizing our affordable remnants, natural stone and specialty stone.
Offering All Stone Countertops
We provide you with more to choose from than only quartz and granite. Incorporating specialty stone and natural stone guarantees your countertops will not resemble any you've seen elsewhere. Natural and specialty stones such as marble, slate, onyx or travertine each have unique characteristics.
When making your countertop stone selection, consider where the countertop will be located and what its primary use will be. What design genre do you best relate to? No matter if you prefer trendy and ultra contemporary, farm-style or traditional, utilizing natural and specialty stone ensures your countertops will be show-stopping!
Natural Stone
Revive every area of your home by incorporating natural stone.
Specialty Stone
Showcase special areas with contrasting specialty stone countertops.
Euro Style
Your stone visually cascades down the sides like a waterfall.
Quartz and Granite Installation
At Fort Worth Granite, we don't stop after installing your countertops! Every detail required to transform your home is offered and installed by us. We work closely with the most respected suppliers in the industry to offer you the finest sinks, hardware, flooring, tiles and more and pass the savings along to you.
Does your fireplace need a new mantle? Are you tired of covering the bad spots in your linoleum? Is that bathroom sink frustrating you? We have everything necessary to take care of it all! No matter what your decorative taste is, from start to finish you can count on us to take care of everything you need.
Edge Styles
Your countertop's edge is a critical design element. Edge profiles smooth the rough stone slab edges and present your preferred design inclination. What design style do you identify with? Does traditional elegance make you feel at home? Is rustic and earthy more your style?
When selecting your edge profile, consider the location and primary function of the countertop and what profile you identify with best. Our design consultant will present you examples of each edge profile and aid you in selecting the one that best fits your needs and your style preference.

For Granite or Quartz Contact Us Today
Most likely you have questions! Contact us today at (817) 601-1003 and speak with our granite and quartz professionals. Our family-owned company is devoted to answering any and all of your questions! Stop by our Fort Worth showroom and meet our design consultant. You will see up-close-and-personal the vast array of granite, quartz, natural stone and specialty stone we have in our extensive inventory.
Fort Worth Granite has the largest selection, the finest service and the best prices to be found anywhere. You can count on us to make your dream home come to life!