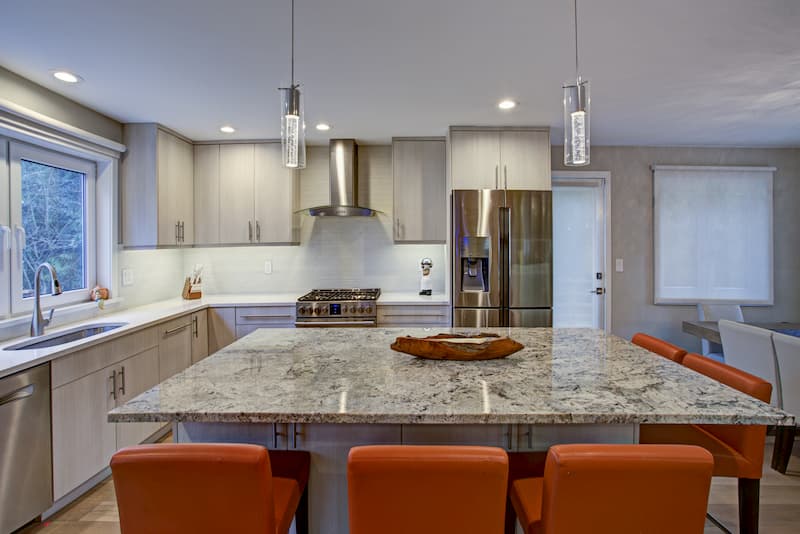 Fort Worth Granite is your number one resource for the widest selection of fine granite countertops in Fort Worth and the DFW metroplex region. Since 2010, we have provided top quality granite countertops to homeowners throughout Haltom City and the surrounding cities. Granite is treasured by homeowners for its elegance and because no two slabs of granite are identical.
Does soothing swirled granite appeal to you? Do you desire ebony black granite for your contemporary home? Are you wondering if granite comes in speckled patterns? Granite colors and varieties run the spectrum, all of which is in our extensive inventory.
Has upgrading your home become expensive? Are you wondering how much granite countertops cost? We always provide a free estimate. With our vast inventory and low wholesale prices, we enable you to have the granite countertops you've always wanted, no matter what your budget limitations are.
Quartz Countertops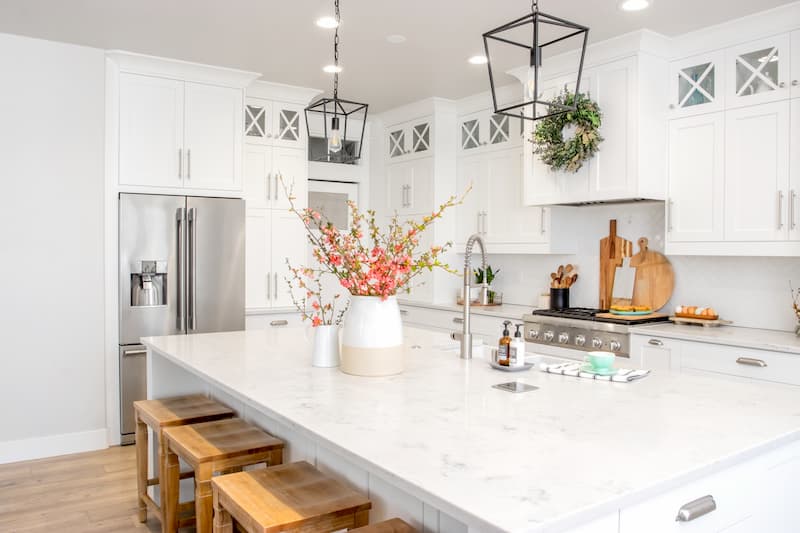 Homeowners and builders alike debate as to whether quartz countertops or granite countertops are better. They both have very positive attributes; however, the decision should be based upon what visually appeals to you most and what works best for your lifestyle. If you love vibrant color, quartz can be dyed any color you desire. Quartz countertops are excellent for large areas because there is no color variance between slabs. They are easy to care for, more resistant to stains and cost-efficient.
If your schedule is demanding, you enjoy cooking or entertain frequently at home, quartz countertops are a good choice for you.
Quartz and Granite Showroom and Warehouse
Visit our locally-based Fort Worth showroom and see the myriad of quartz and granite colors, patterns and varieties we offer you. Our stone experts will lead you through our huge warehouse to view the abundant supply of large granite, quartz and specialty stone slabs we make available for you to choose from. The selection is overwhelming!
The design consultant will aid you in choosing the countertop stone that best fits your design preference and your needs. Additionally, you will be presented with the unlimited combinations you have to frame and enhance your countertops by utilizing our affordable remnants, tile and natural stone.
Offering All Stone Countertops
Fort Worth Granite offers you more countertop stone options than only quartz and granite. Natural and specialty stones such as onyx, slate, marble and soapstone each have unique characteristics. Incorporating them broadens your design options tremendously. When selecting, consider what the countertop will be used for and where it will be located.
What is your favored design aesthetic? Do you identify best with ultra modern, industrial, shabby chic or traditional? No matter what your design inclinations, utilizing natural and specialty stone makes certain your countertops are unique unto yourself.
Natural Stone
Natural stone adds a striking and unique style.
Specialty Stone
Specialty stone makes minor details stand out.
Euro Style
Euro style gives your stone the look of cascading water.
Quartz and Granite Installation
We don't stop after installing your countertops! Our close alliance with the industry's top suppliers enables us to provide you every finishing detail you need to transform your home and pass low prices along to you. Is your bathroom linoleum peeling? Does your kitchen sink make you cringe? How outdated is your fireplace? From flooring and tile to sinks and hardware, we have and install it all for you. At Fort Worth Granite, we make certain that you receive the finest quality and lowest prices to be found anywhere.
Edge Profiles
Your countertop edge profile is a key design detail. Your countertop's rough stone slab edges must be smoothed, but the edge style you select expresses your preferred design genre. Do you prefer understated elegance, or is following the latest trends important to you? When selecting your edge profile, consider what design style expresses your taste best, where the countertop will be located and what it will primarily be used for. Our designer will present examples of each edge profile and aid you in selecting the one that best expresses your design inclination and suits your needs.

For Granite or Quartz Contact us Today
Do you have questions? Contact us today at (817) 601-1003 to speak with our granite and quartz professionals. We welcome any and all questions you may have! View our inventory online and stop by to see us at our Fort Worth showroom. You'll be able to see up-close-and-personal the extensive selection of quartz and granite colors, patterns and varieties we make available to you.
Fort Worth Granite is devoted to providing you with the widest selection of countertop stone, the best service and the lowest prices available anywhere. You can count on us to take care of all your home upgrading and make your dream home happen!