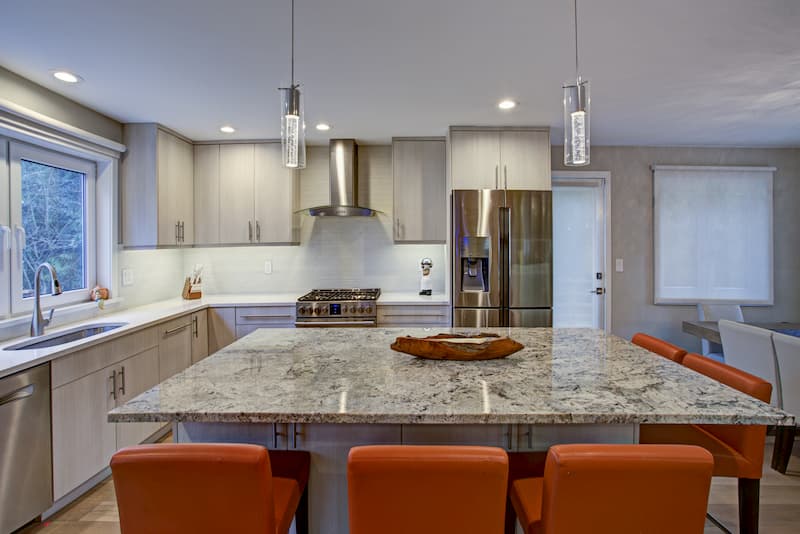 Fort Worth Granite is your number one resource for the widest selection of fine quality granite countertops in the Fort Worth and DFW metroplex area. Since 2010, we have transformed the homes of residents in Fort Worth and the surrounding cities by providing them with top quality granite countertops. Granite is highly desired by homeowners because granite countertops create an elegant atmosphere in any room they're in.
Since granite is a natural stone that is quarried, cut and polished, no two granite slabs are identical. Have you wondered what colors granite comes in? Does your daring personality long for dramatic black granite, or is ethereal white granite more your style? Granite colors run the spectrum and we carry the full range in our inventory.
If swirled or speckled granite appeals to you, we carry a multitude of those varieties also. "What do granite countertops cost?", you ask. We understand that upgrading your home can become a costly venture. A free estimate is always provided to you. Due to our extensive inventory and our low wholesale prices, we see to it that you have the granite countertops you've been wanting, no matter what your budget restrictions are.
Quartz Countertops Fort Worth TX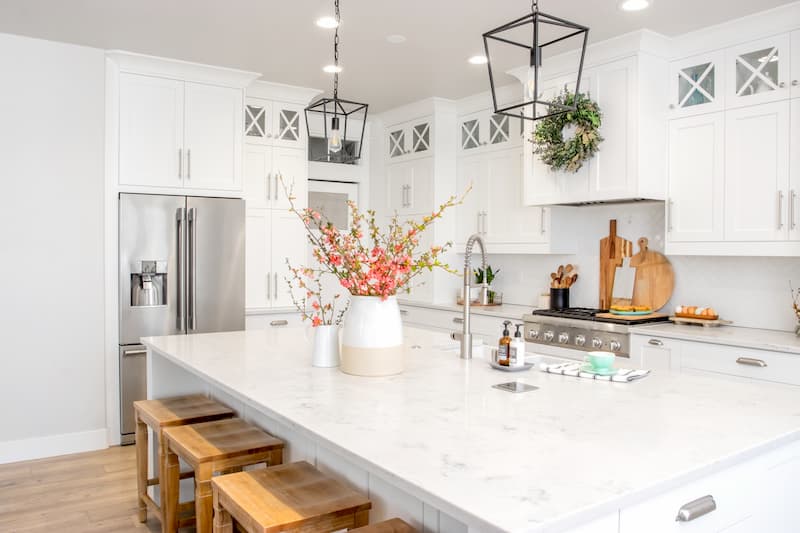 Have you had difficulty in deciding if granite countertops are better than quartz countertops? Homeowners and builders alike debate this. Both quartz and granite have very positive aspects; therefore, it really amounts to what you visually prefer and what works best with your lifestyle. Granite is a porous stone that must be treated, whereas quartz countertops are a combination of quartz material and resin.
Quartz countertops do not need to be treated and are easy-care, cost-efficient and less apt to stain. They can be dyed any color or pattern you desire and are excellent for large areas because there is no color variance between slabs. If your schedule is demanding, you enjoy cooking frequently or entertain casually at home on a regular basis, quartz countertops would be a good choice for you.
Quartz and Granite Showroom & Warehouse
Our designer will show you the multitude of quartz and granite colors, patterns and varieties we offer you when you visit our Fort Worth showroom. Tour our extensive warehouse and you will see the multitude of large granite, quartz and natural stone slabs we make available for you to choose from. To ensure that you have the countertops that are best suited for you, your needs and your design preference, the design consultant will aid you in making this important choice.
In addition, you will be presented with the innumerable options you have to enhance, frame and showcase your countertops by adding natural stone, specialty stone and our affordable granite and quartz remnants.
Granite Countertops
Add elegance throughout your home with granite countertops. Granite is porous and requires treating, but no two granite slabs are identical.
Quartz Countertops
Quartz countertops can be dyed any color you wish. They are excellent for large areas because there is no variance in color between slabs.
Offering All Stone Countertops
Fort Worth Granite provides you many more countertop stone options other than quartz and granite. Natural stone and specialty stone such as marble, onyx, slate, soapstone and travertine greatly increase your countertop style possibilities. Do you perceive your kitchen island to be a central location for entertaining or casual dining? With a contrasting specialty stone, you cause it to command attention.
What design style are you most attuned with? Is traditional elegance what you relate to best? Does ultra modern describe you better? When selecting your countertop stone and the design of your countertops, consider what the primary function of the countertop will be.
Where will the countertop be located? What do you want the countertop to accomplish for you? Our designer will present to you the extensive variety of natural and specialty stone in our inventory and will aid you in selecting the countertop stone and countertop style that best fits your design preference and your needs.
Natural Stone
Natural stones each have their own characteristics. Using natural stone throughout your home increases decorative interest.
Specialty Stone
Use specialty stone to create dramatic contrast with your countertops. Incorporating specialty stone guarantees no one else will have countertops similar to yours.
Euro Style
This countertop style works well with all design preferences. Known also as waterfall, your stone appears to be cascading down the sides.
Quartz and Granite Installation
At Fort Worth Granite, we do more than just install your countertops. From initial design development until your home upgrading is completed, we provide and install every fine detail needed. Are you embarrassed by your bathroom? Is your linoleum peeling? What about that outdated fireplace? From tile and sinks to hardware and flooring, we have it all for you.
Because of our close affiliation with the most respected suppliers in the industry, we are able to offer you the finest quality finishing details at low prices. Have you envisioned a dramatic accent table in a rare granite variety? We take care of that also! You can rest assured that everything necessary to turn your house into a dream home will be offered and installed by us.
Edge Profiles
The edge of your countertop is an important design element. Aside from finishing the rough edges of your countertop stone slab, it expresses your preferred design genre. When deciding, consider what room the countertop will be in and the primary function it will serve.
Choose the profile that best expresses your design style. Do you prefer understated minimalism? Are you more comfortable in traditional, classic environments? Our design consultant will present examples of all edge profiles and assist you in making this important decision.

For Granite or Quartz Contact Us Today!
View our online inventory and call us today at (817) 601-1003 to speak with our quartz and granite stone experts. We are happy to answer any and all of your questions! Stop by our Fort Worth showroom to see first-hand the extensive array of granite and quartz colors, patterns and varieties we offer you.
Our installation professional will lead you through our large warehouse to view the abundant supply of granite, quartz and natural stone slabs we make available for you to choose from. The large variety you have to select from may overwhelm you! Fort Worth Granite provides you with the largest selection of quartz and granite, the finest service and the best prices anywhere to be found. You can trust us to make your dream home happen!