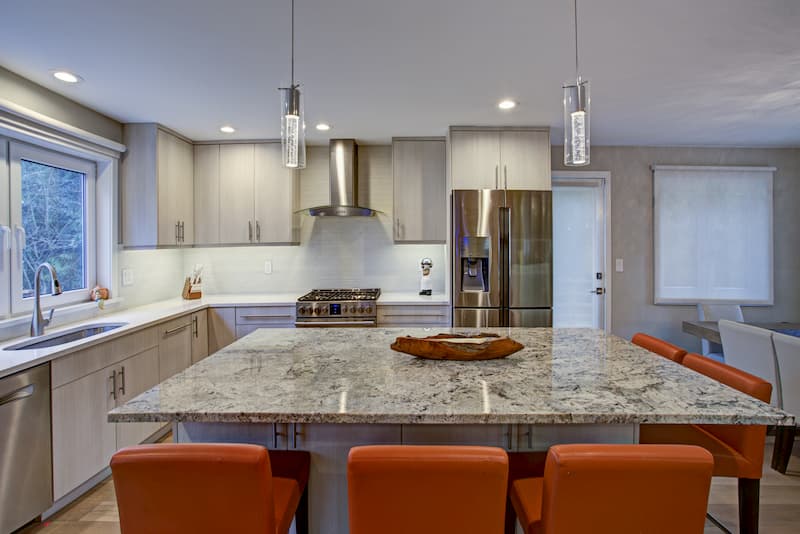 Fort Worth Granite has the most extensive selection of fine granite countertops available in Fort Worth and the entire DFW metroplex area. Since 2010, we have provided homeowners in Euless and the surrounding cities with top quality granite countertops and service. Granite is treasured for its elegance and because no two slabs of granite are identical.
What colors and varieties is granite available in? Granite comes in a multitude of colors and patterns, including swirled and speckled varieties. Our vast inventory includes the full range; however, if you don't see exactly what you're looking for, we custom order it for you.
Upgrading your home can become costly. We always provide you a free estimate, as we are often asked how much granite countertops cost. With our low wholesale prices, we make certain that you have the granite countertops you've been hoping for, no matter what your budget range is.
Quartz Countertops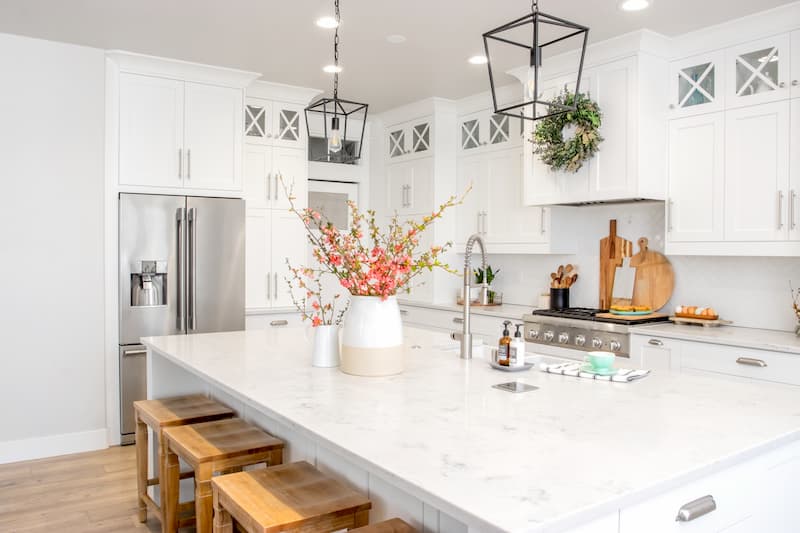 The debate continues as to whether granite countertops or quartz countertops are better. This is a personal decision and comes down to what you are looking for and which one best suits your lifestyle and needs. Both granite and quartz have many positive attributes. Granite does require treating because it is porous, whereas quartz countertops are combined with resin. Quartz countertops can be dyed any color and are excellent for large areas because there is no color variance between slabs.
Because quartz countertops are easy-care, cost-efficient and less likely to stain, they are a good choice for people with hectic schedules and who enjoy cooking or entertaining frequently at home.
Quartz and Granite Showroom and Warehouse
Our showroom and warehouse are filled with the many colors and varieties of granite and quartz that we offer you. Visit our Fort Worth showroom to see our extensive inventory in-person. We will guide you through our monumental warehouse to view the multitude of large granite and quartz slabs for you to choose from.
Many homeowners have difficulty in deciding! Our designer will aid you in selecting the countertop stone that suits your needs and desires best. In addition, you will be presented with the many ways you can enhance your countertops by incorporating our affordable remnants, natural stone, specialty stone and tile.
Offering All Stone Countertops
Fort Worth Granite offers you more to select from than granite or quartz. Natural stones such as slate, onyx, travertine and marble increase your style options. As natural stones are unique unto themselves, consider what room the countertop will be in and what its primary use will be.
What is your preferred design style? Do you embrace classic and traditional? Would adventurous describe you? By utilizing natural and specialty stone, you broaden your design options and ensure your countertops will be unlike anyone else's. The design consultant will assist you in selecting the stones that enhance your countertops and best express your design inclination.
Natural Stone
The door opens to your creative possibilities with natural stone.
Specialty Stone
Highlight your special countertops by choosing specialty stone.
Euro Style
Your stone selection cascades down the sides like a waterfall.
Quartz and Granite Installation
Fort Worth Granite takes care of more for you than just installing your countertops! We work closely with the industry's top suppliers to provide you with the best tiles, sinks, hardware, flooring and more and pass the low prices along to you.
Is your bathroom boring you? Does your kitchen floor need to be replaced? How outdated is your fireplace? From beginning to end, every detail you need to upgrade your home is offered and installed by us. You can be sure that Fort Worth Granite doesn't miss a detail! We take care of everything for you.
Edge Profiles
It is not a simple task to craft precise edge profiles. Our fabrication specialists have many years of industry experience. Your countertop edge profile is not only necessary to smooth the rough slab edges, it is integral in expressing your preferred design style. When making this important decision, consider where the countertop will be located and what primary purpose it will serve.
Do you identify best with traditional style or would trendy better describe you? Our designer will present examples of these edge profiles and will assist you in choosing the edge profile that is best suited for you and your needs.

For Granite or Quartz Contact Us Today
View our extensive online inventory and call us today at (817) 601-1003 to speak with our quartz, granite and stone specialists. Our family-owned business is happy to answer any and all of your questions! Drop by our Fort Worth showroom and see for yourself the innumerable granite and quartz colors, patterns and varieties we offer you. Walk through our expansive warehouse and see the large stone slabs we make available for you to choose from. Fort Worth Granite has the largest selection of granite and quartz available in the north Texas region at the lowest prices available anywhere. You can count on us to take your house and turn it into the home of your dreams!