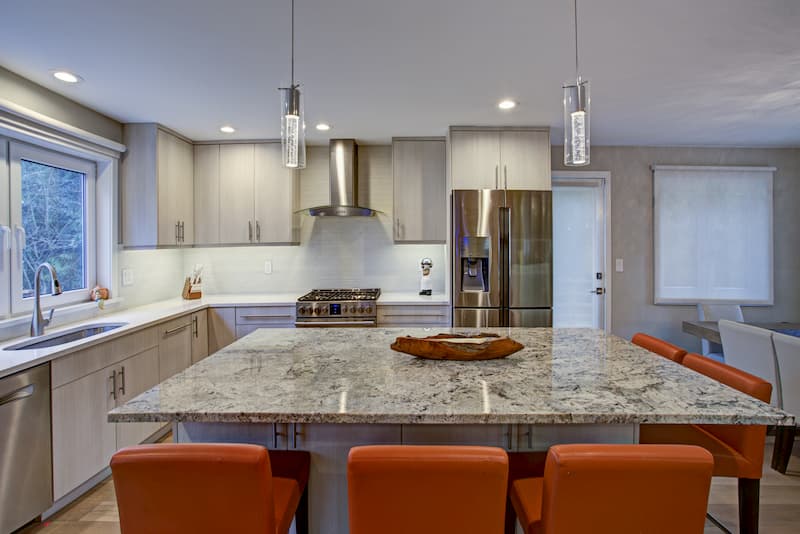 Fort Worth Granite is your premier destination for the widest selection of fine quality granite countertops in Fort Worth and the DFW metroplex region. For nearly a decade, we have provided homeowners throughout Burleson and the surrounding cities with the best granite countertops available anywhere.
Granite is a natural stone that is quarried and no two granite slabs are identical. Granite is prized because it instantly evokes a feeling of elegance in any room. Is smoky, swirled granite your style? Do you want dramatic black granite for your trendy home? Would you like a speckled variety? Granite comes in a myriad of colors, patterns and varieties. "What do granite countertops cost?", you ask.
We always provide a free estimate. We understand upgrading your home is sometimes costly, but with our direct-to-you rock-bottom prices and our extensive inventory we enable you to afford the granite countertops you've been wanting, no matter what your budget range is.
Quartz Countertops Burleson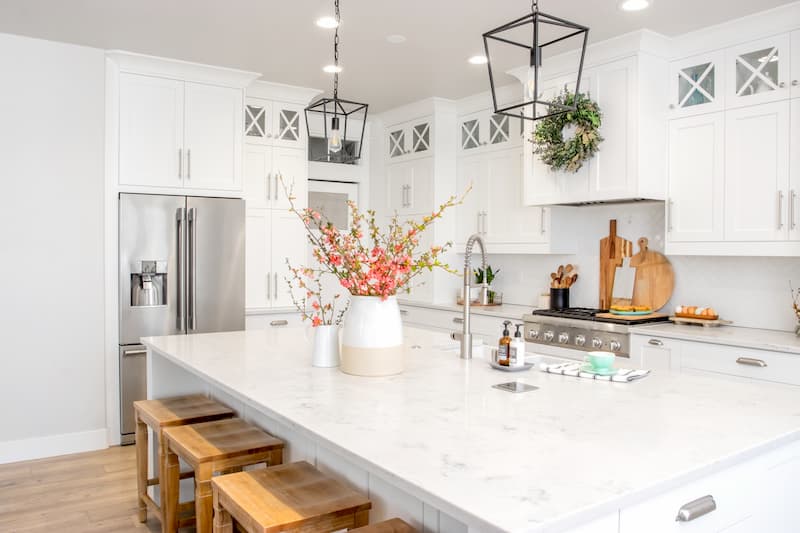 Homeowners frequently inquire as to if granite countertops or quartz countertops are better. As both have positive qualities, it really comes down to what suits you and your lifestyle best. Quartz countertops are a combination of quartz and resin, making them less apt to stain, easy-care and cost-efficient.
They can be dyed any color and are excellent for large areas because seaming doesn't show between slabs. Quartz countertops are a good choice if your schedule is demanding, you cook frequently or often entertain at home.
Quartz and Granite Showroom & Warehouse
Visit our Fort Worth showroom and our design consultant will show you the vast selection of granite and quartz colors, patterns and varieties in our extensive inventory. In our large warehouse, you will view the abundance of quartz and granite slabs for your choosing.
The selection and combinations are endless! The designer will aid you in selecting the countertop stone that is just right for you and present to you the innumerable ways you can showcase, frame and enhance your countertops by incorporating specialty stone, tile, natural stone and our affordable quartz and granite remnants.
Offering All Stone Countertops
In addition to granite and quartz, we offer an extensive variety of specialty stone and natural stone. As natural stones such as soapstone, slate and marble each have unique characteristics, when making your countertop stone selection consider how your countertop will be used, where it will be located and the personal design style you wish to convey. Whether you prefer traditional or trendy and contemporary, utilizing natural and specialty stone guarantees your countertops will not resemble anyone else's.
Natural Stone
Your creative options expand with natural stone countertops.
Specialty Stone
Contrast your kitchen island with dramatic specialty stone.
Euro Style
Like a waterfall, your stone appears to cascade downward.
Quartz and Granite Installation
Fort Worth Granite installs and provides you more than just your countertops! We are able to offer you low prices due to our close affiliation with the industry's most reputable suppliers. From sinks and hardware to flooring and tiles, we provide and install every detail needed to transform your home.
Would you like a tabletop in luxury stone? We even do that! With our fine quality products and low wholesale prices, you can rest assured every detail you need will be taken care of by us.
Edge Profiles
Don't negate the importance of your countertop's edges! Edge profiles don't just smooth the edges of the rough stone slab, they express your design preference.
When selecting, consider the design style that best fits you, the location of the countertop and what it will be used primarily for. Our design consultant will present you with examples of each edge profile and aid you in choosing the edge profile that is best suited for you and your needs.

For Granite or Quartz Contact Us Today
Feel free to ask us any questions! Our family-owned company gladly welcomes any questions you have! View our extensive online inventory and contact us today at (817) 601-1003 to speak with our granite and quartz experts.
Drop by our Fort Worth showroom and see up-close-and-personal the vast array of granite and quartz colors, patterns and varieties in our inventory. Fort Worth Granite has the most extensive selection available anywhere, the best service around and the lowest prices to be had. With us, your dream home will happen!