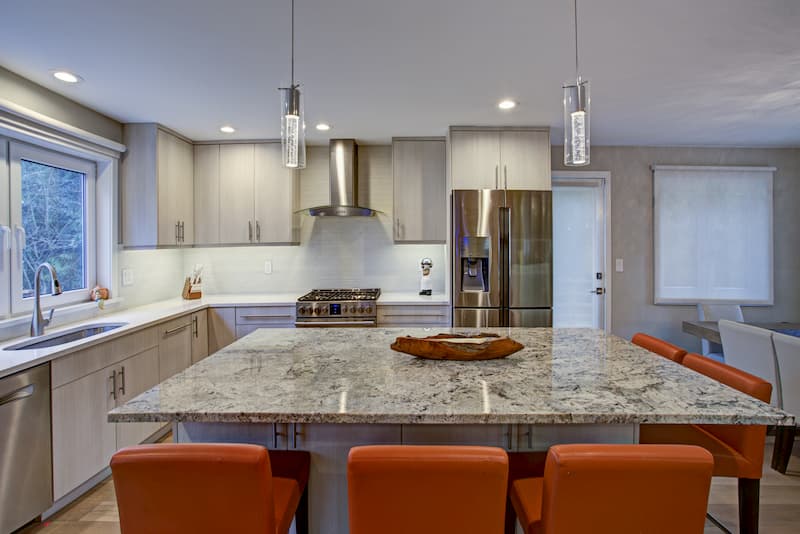 Since 2010, we have offered the widest selection of fine quality granite countertops to Fort Worth and the entire DFW metroplex area. Fort Worth Granite takes pride in providing the best quality granite countertops to homeowners in Bedford and the surrounding cities.
Homeowners value granite because it creates an elegant feeling throughout the home. As granite is a natural quarried stone, each slab of granite is unique. Does your daring style desire black granite? Do you prefer a traditional, relaxing environment with white granite? Granite colors, patterns and varieties are extensive and we carry the full spectrum in our large inventory. If you desire a rare seldom-seen variety, we even order it for you.
Many people ask us how much granite countertops cost because upgrading your home sometimes becomes expensive. We understand that and a free estimate is always provided to you. Due to our vast selection and low wholesale prices, we are able to work with any budget range and see to it that you have the granite countertops you've been hoping for.
Quartz Countertops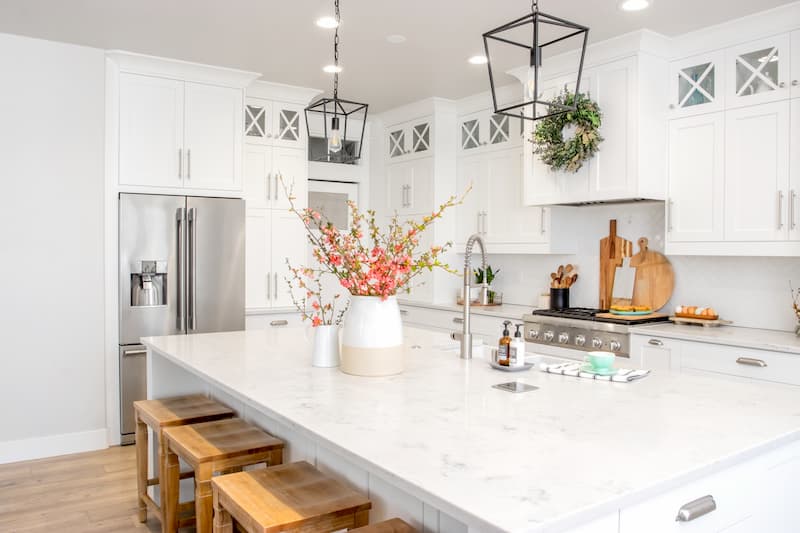 Many homeowners are in a quandary as to whether granite countertops are better than quartz countertops. Both have very positive characteristics; therefore, the decision should be based upon which you prefer and what is most compatible with your desires, lifestyle and needs.
Quartz countertops can be dyed any color you desire and don't need to be treated. They are excellent for large areas because there is no color variance between slabs. Due to their easy care, the fact they are more stain resistant and cost-efficient, quartz countertops are a good choice for those of you who are continuously juggling your schedule, love cooking frequently or who enjoy entertaining at home regularly.
Quartz and Granite Showroom & Warehouse
Our Fort Worth showroom houses our vast assortment of quartz and granite colors, patterns and varieties we make available to you. Come by and see it all in-person. You will be escorted through our large warehouse to view the huge stone slabs for you to select from. The choices are so extensive it's often difficult to choose!
Our designer will assist you in choosing the countertop stone that best fits your design preference. You will be presented with the innumerable combinations you have to showcase and enhance your countertops by incorporating tile, our affordable granite and quartz remnants and natural stone and specialty stone.
Offering All Stone Countertops
We offer you a fine selection of natural stone and specialty stone in addition to granite and quartz. The design of your countertop and your stone selection make your countertops truly memorable. Natural and specialty stone such as onyx, marble, serpentine and soapstone each have unique characteristics; therefore, the location and primary function your countertop will serve should be considered. Incorporating stones such as these is important in expressing your design inclination. No matter if your preferred design style is rustic, farm-style, trendy or ultra-modern, when you utilize unique stones you ensure that your countertops will have your personal stamp on them.
Natural Stone
Natural stone provides you with many design possibilities.
Specialty Stone
Utilize specialty stone and your countertops won't resemble anyone else's.
Euro Style
Put the focus on your stone choice with waterfall countertops.
Quartz and Granite Installation
At Fort Worth Granite, we install far more than your countertops! Every fine detail necessary to upgrade your home is offered and installed by us. We work closely with the most respected suppliers in the industry to offer you flooring, tile, fine hardware, sinks and much more at the lowest prices possible. Would you like a beautiful accent table with a dramatic marble top? We take care of that also! Whatever your home needs to complete its transformation is addressed by us with the utmost in craftsmanship and proficiency.
Edge Profiles
Your countertop edge is an extremely important design detail. The edge profile expresses your true design partiality. Do you relate better to the latests trends or are you more comfortable with classic, traditional environments?
Take this into consideration, along with the location and function of the countertop, when selecting your edge profile. The designer will present to you examples of these edge profiles and assist you in making this important design decision.

For Granite or Quartz Contact Us Today!
Be sure to view our online inventory! Contact us today at (817) 601-1003 and speak with our knowledgeable quartz, granite and natural stone professionals. We understand you most likely have many questions. Our family-owned company is more than happy to answer any and all of your questions!
Stop in at our locally-based showroom and see for yourself the extensive assortment of granite and quartz colors, patterns and varieties we make available to you. Fort Worth Granite is devoted to providing you with the best service, the widest selection and the finest quality countertops available anywhere. With us, you can rest assured that your house will become the home of your dreams!