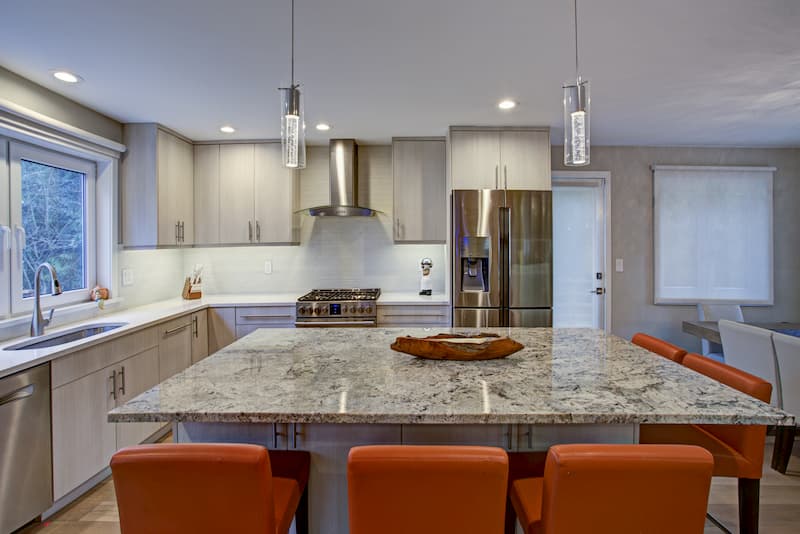 Granite Countertops in Arlington TX. Fort Worth Granite has provided the largest selection of excellent granite countertops to the DFW metroplex area for nearly a decade. We are proud that our family-owned company supplies homeowners in Arlington and the surrounding cities with the best quality granite countertops available anywhere.
Granite is popular with homeowners because it creates an elegant atmosphere. No two slabs of granite are identical, as granite is a natural stone that is quarried.
We are often asked what colors granite is available in. Granite colors run the full spectrum, from snowy white to the deepest black and all the colors in between. If you love swirled or randomly speckled granite, we have that also. We even special-order varieties for you!
If you are curious as to what granite countertops cost, a free estimate is provided. Home upgrades are sometimes costly; however, due to our extensive variety and low wholesale prices we enable you to have the granite countertops you desire. You can trust us to make your dream home happen for you!
Quartz Countertops Arlington TX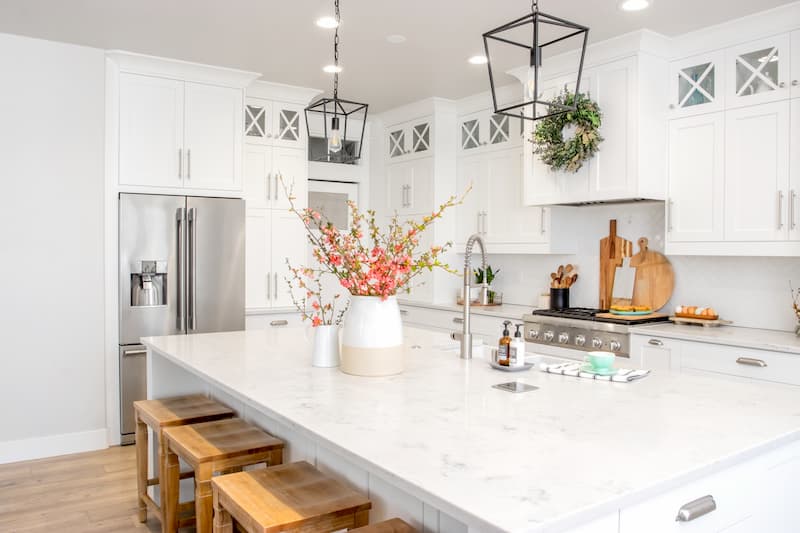 Countertops in Arlington, TX. Granite and quartz countertops have many positive aspects. Therefore, your decision should be based-upon what you prefer and what works best for your lifestyle and your design preference.
Granite must be sealed and treated whereas quartz countertops are a combination of quartz material and resin. Quartz countertops do not need to be treated and dyed slabs are consistent in color.
Seams don't show between slabs so quartz countertops are a wise choice for large areas. They are easy to care for, less likely to stain and are very affordable. If you enjoy cooking frequently, like casual entertaining at home or have a hectic, demanding schedule then quartz countertops would work well for you.
Quartz and Granite Showroom & Warehouse
Visit our locally-based showroom and warehouse and see for yourself the massive quantity of granite and quartz colors, patterns and varieties we provide for you. By viewing our large countertop stone slabs you will be able to envision what your finished countertops will look like.
We understand it may be difficult for you to decide! To assist you in selecting the perfect countertop stone for you and your home, our design consultants will show you the many ways you can enhance your countertops by utilizing our affordable luxury and specialty stone remnants and framing your countertops with tiles and natural stone.
Granite Countertops
As granite is a natural stone, every slab is unique unto itself. Granite countertops are elegant and stately.
Quartz Countertops
Quartz can be dyed any color. If you want to show your love of vibrant color, quartz countertops make that possible.
Offering All Stone Countertops
Fort Worth Granite offers you more stone choices and countertop design styles than only quartz and granite. Natural and specialty stones as in slate, soapstone or marble each have unique character traits and some are better suited for certain areas than others.
For example, marble is highly-desired for flooring, but is generally too soft for a kitchen countertop. Euro style countertops not only hide areas where appliances are stored, they draw attention to your stone selection.
When choosing your countertop stone and the design of your countertop, consider the use and location of the countertop and what design style you relate to best. Our talented designer will aid you in making these difficult decisions and present you with the numerous options available to you when you incorporate specialty and natural stones.
Natural Stone
Using natural stone broadens your creative design choices. Natural stones each have their own individual characteristics.
Specialty Stone
Specialty stone is excellent for unusual-shaped countertops or to highlight your important countertop areas.
Euro Style
Commonly known as waterfall countertops, your stone choice appears to be cascading down the sides.
Quartz and Granite Installation
Fort Worth Granite does more for you than only install your countertops. No matter what details you are in need of for your home's transformation, we provide it.
Because our close relationship with the top suppliers of finishing details in the industry, we are able to offer you and install every aspect required and provide you with the lowest prices available anywhere. No matter if you need flooring, hardware, sinks or tile, we address every necessary detail with proficiency.
With us, your concerns will be eliminated and your house will become exactly what you've been dreaming of!
Edge Profiles
Edge profiles are necessary to smooth the rough edges of your countertop stone slab. Not only that, they are a crucial design element. When choosing your edge profile, first consider what design style best expresses you.
Do you relate best to luxury and glam styles, or is understated elegance a better descriptive of you? The countertop's use and location must be taken into consideration. Our design expert will show you examples of all edge profiles and assist you in selecting the edge that works best for your countertop and your design style.

For Granite or Quartz in Arlington TX. Contact Us Today!
Call us today for Granite Countertops in Arlington TX at (817) 601-1003. Our experienced stone professionals are here for you and available to answer all of your questions.
Stop by and visit our showroom. The designer will show you the extensive variety of granite and quartz colors we make available to you. You will be able to tour our large warehouse and view the numerous quartz, granite and natural stone slabs and select the appropriate countertop stone that best fits you and your needs.
With us, we see to it that you receive the best quality and finest service available anywhere. At Fort Worth Granite, we make certain your home will become what you've always hoped for!