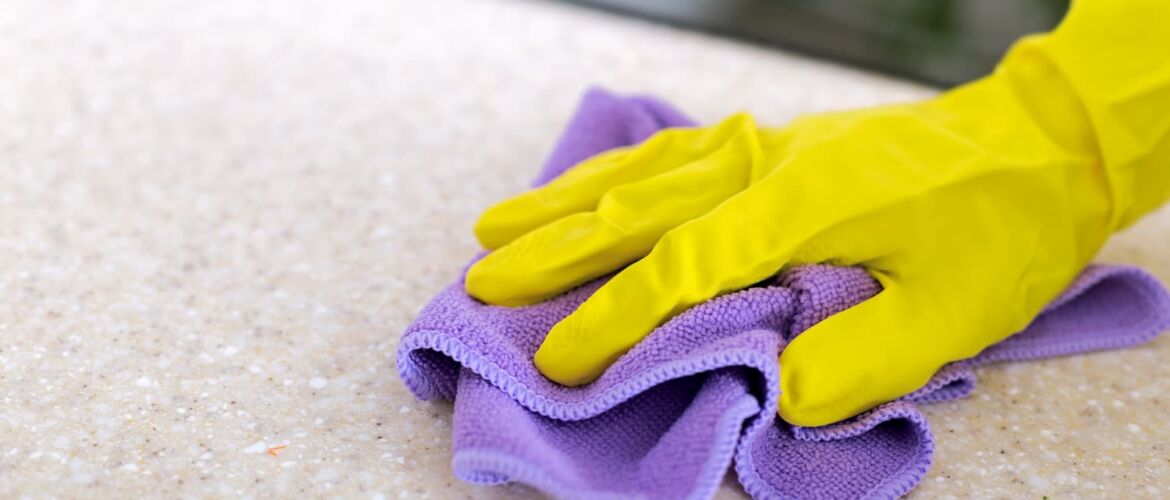 This will discuss how to clean granite countertops. Your granite countertops transform the look of your kitchen, bathroom or any area within your home where they are located.  Cleaning them properly is of the utmost importance to maintain their beauty, as granite countertops will last for more than thirty years when they are regularly treated and cleaned in the manner which they need. 
Their shine is one of the beautiful things about them.  To properly care for them, it is best to approach their cleaning with gentleness and caution.  Don't be alarmed!  Granite is a hard stone and handles regular household activities with ease; however, your beautiful investment should be cared for correctly.  
Do Granite Countertops Require Special Cleaning?
Yes, but it only requires that you don't put off properly cleaning them.  If you spill something, wipe it up immediately.  If you observe your countertop's shine has lessened, then test them to see if they are in need of sealing again.  Never use scrubbing pads or sponges with scrubbing sides on the surface of granite countertops, as it will rub the surface and lessen their shine. 
Use soft sponges or microfiber cloths on the countertop surface.  Mild dishwashing liquid is always the safest cleaning product to use.  If you've overlooked a stain, create a paste with baking soda, apply on the stained area and cover it with plastic wrap. 
Be sure to wipe the countertops off with a soft cloth promptly after they have become wet.  Fort Worth Granite understands this care may be new to you!  We are always here to answer any questions you might have!    
Can't I Just Clean My Granite Countertops With My Other Household Cleaners?
Definitely not!  Many common household cleaners can damage, fade or strip your granite countertops of their sealant and cause them to become vulnerable to water damage and bacteria.  Avoid the following products and items from coming into contact with your granite countertops: 
Acidic foods such as lemons, limes or any other citrus
Vinegar
Bleach
All-purpose household spray or glass cleaners  
How Can I Find Out How To Clean My Granite Countertops And What I Should Use?
Come see us at our conveniently-located Fort Worth showroom.  Fort Worth Granite is always here for you!  We understand that your granite countertops are of the utmost importance to you and their care requirements may be an adjustment for you at first. 
Call us any time at (817) 601-1003 and speak with our granite professionals.  Our family-owned and the locally-based company are devoted to providing you with the finest granite countertops, the best installation service and the care that your countertops require. 
Our goal is to always make every step easy and simple for you.  No matter what questions, needs or concerns you have, you can trust us to take care of everything for you!